Date of Production
1971
Duration
Run time: 10m 0.0s
Summary
A Fourth of July Coon-on-a-Log contest serves as the background for this portrait of George Wooten, Leslie County Judge. Wooten describes the joys of living in the hills and is himself living proof that middle-class American values don't yet control our world. His lyrical comments on recreation, retirement, and the mountaineers' relationship with the land are intercut with scenes of dogs and coons. The dog that gets the raccoon off the log and into the river the quickest is the contest winner.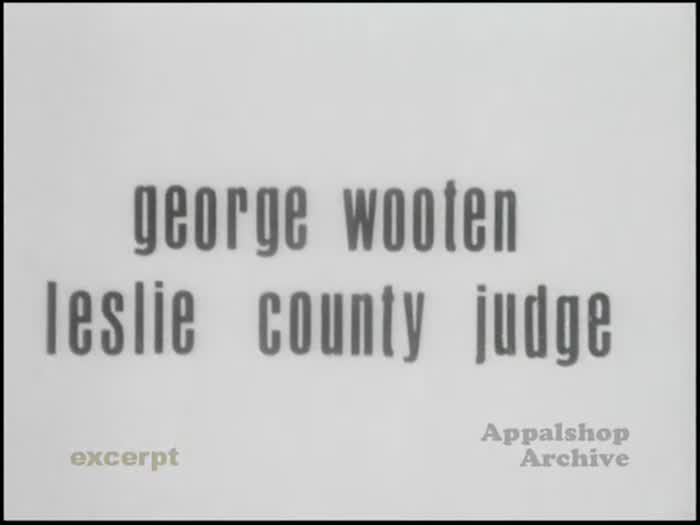 Creator
Smith, Herb E. (directed by)
Description
Note: The title on the original film is George Wooten: Leslie County Judge; Appalshop re-titled and distributed the film as Judge Wooten: Coon-on-a-Log.

Herb E. Smith directed and edited the film. It was his first film. Dan Mohn, Glenn Palumbo, and Bill Richardson also worked on the production. The film was shot July 4, 1970 at the Leslie County Fish and Game Club located on the banks of the Middle Fork of the Kentucky River near Hyden,
Kentucky.
Names (Library of Congress)
Wooten, George
Topics (Library of Congress)
Mountain life--Appalachian Region, Southern, Appalachian Region, Southern--Social life and customs
Georgaphical Areas (Library of Congress)
Kentucky, Appalachian Mountains
Genre (Library of Congress)
Documentary films
Related Collection
Judge Wooten and Coon on a Log materials, c.1971
Related Place
Hyden, KY