Date of Production
1994
Duration
Run time: 29m 0.0s
Summary
Marijuana grows well in the Appalachian mountains. Bluegrass, Blackmarket investigates the underground economy that developed around marijuana cultivation in an economically depressed area of eastern Kentucky, and the official corruption that accompanied it.
In this film, a marijuana grower demonstrates his techniques for growing the plant and skirting the law. The area's prosecuting attorney describes his frustration with trying to convict growers in a community that has come to accept the marijuana trade as a way of life. Drug enforcement personnel comment on their efforts to win the war on drugs as state police and national guardsmen eradicate plants found in isolated cornfields. A local newspaper editor laments the loss of community pride that comes with dependence on an underground economy. Woven throughout the documentary is the story of a large-scale FBI sting operation that led to the arrest of four local sheriffs on drug trafficking charges.
Bluegrass, Blackmarket is a case study of the destructive and corrupting nature of widespread dependence on illegal economic activity and underscores the difficulty of eliminating this country's "drug problem" as long as individuals have few viable economic opportunities available to them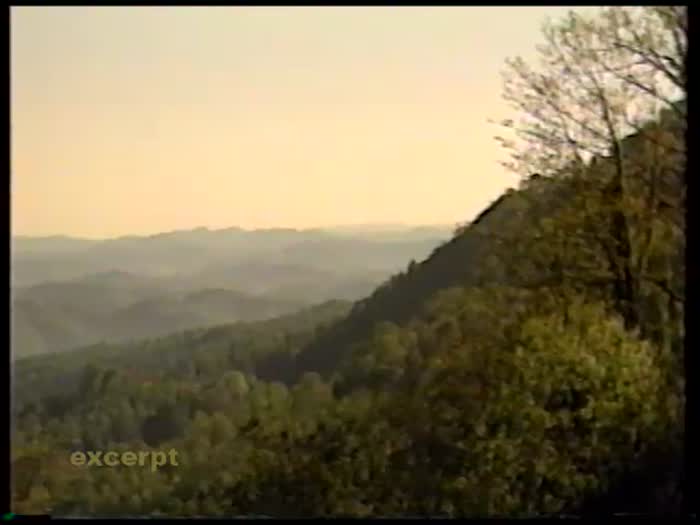 Creators
Appalshop, Inc (produced by)
Luxemburger, Hans (directed by)
Contributor
Kirby, Rich (musician)
Description
A videotape by Hans Luxemburger.
Production Crew: Stephanie Wagner, Tom Hansell, Jeff Whetstone, Herb E. Smith, Samantha Lynn Murray, Hans Luxemburger.
With the Assistance of: Anne Lewis, Elizabeth Barret, Bryan Warf, Dee Davis, Mimi Pickering, Tommy Bledoe, Rich Kirby, Katie Dollarhide, Robert Gipe, Andy Garrison. Helicopter footage provided courtesy of I.T.N.
News footage provided courtesy of WLEX Television, Lexington, KY.

Captions: "Five out of the six lawmen arrested on August 16, 1990 were tried and convicted and now serve federal prison sentences. Breathitt County Sheriff Dean Spencer was eventually acquitted on all charges."
"Johnny Mann continues to serve in the Federal Correctional Institute in Ashland, Kentucky. He will be eligible for parole in 2011." "Johnny Mann's successor as Lee County Sheriff was arrested in 1994 for his alleged involved in an intenational marijuana trafficking ring."

Interviewees: Bob Smith, editor Three Forks Tradition, Beattyville, Kentucky; Johnny Mann, Former Lee County Sheriff; Tom Hall, Commonwealth Attorney, Owsley, Lee, Estill Counties; Charles Shepherd, Jr. resident of Mt. Vernon, Kentucky; Greg Speck, Kentucky State Police; Terry O'Connor, Special Agent in Charge, FBI; Louis DeFalais, US Attorney for Eastern Kentucky.

Includes footage of the Wooly Worm Festival in Beattyville, Kentucky.
Don't Let Your Deal Go Down" (traditional)
performed by Rich Kirby.
"Kentucky" (C. Davis)
The White Top Mountain Band.
"Great High Mountain" (Keith Whitley)
Larry Sparks and the Lonesome Ramblers.

Special thanks to: Bob and Linda Smith, Tom and Karen Hall, Charles Shepherd, Jr., Johnny Mann, Doug Arnett, Billy Shepherd, Will Herrick, Neely Back, Gordon Nichols (KY Marijuana Strike Task Force), Tom Stafford (Drug Enforcement Agency), John Jack Quinn, BIll Neely (ITN), Lola Potter (WLEX-TV), Tony Turner (WYMT-TV), Tom Jones, Lois Kilburn (The BEattyville Enterprise), Michael Aurbach, Don Evans, Arthur Rouse, Walter Broch, friends and family, Appalshop, Alpha June Palmer, citizens of Beattyville, KY.
 
Funded by: Margaret Hamblet Fellowship, Appalshop Production and Education Fund, Appalshop Director's Fund.